In the heart of Italy, almost at the centre of the only region of the peninsula which does not have access to the sea, the Perugian dialect is heard, but so is English, French, German, and any of a thousand other languages of the planet.
IN THIS TOUR YOU WILL SEE: Rocca Paolina, Piazza Italia, Corso Vannucci, Piazza IV Novembre, il Duomo.
A marriage between inhabited areas and the countryside
Capital of Umbria
The regional capital of Umbria are also students at the Università per Stranieri (University for Foreigners). This institution is a powerful force in conveying the message throughout the world that Perugia played an important part in the history of Italian art from the Gothic to the Renaissance.
In the land of Saint Francis, in the name of peace and brotherhood, people walk each year from Perugia to Assisi in protest against war.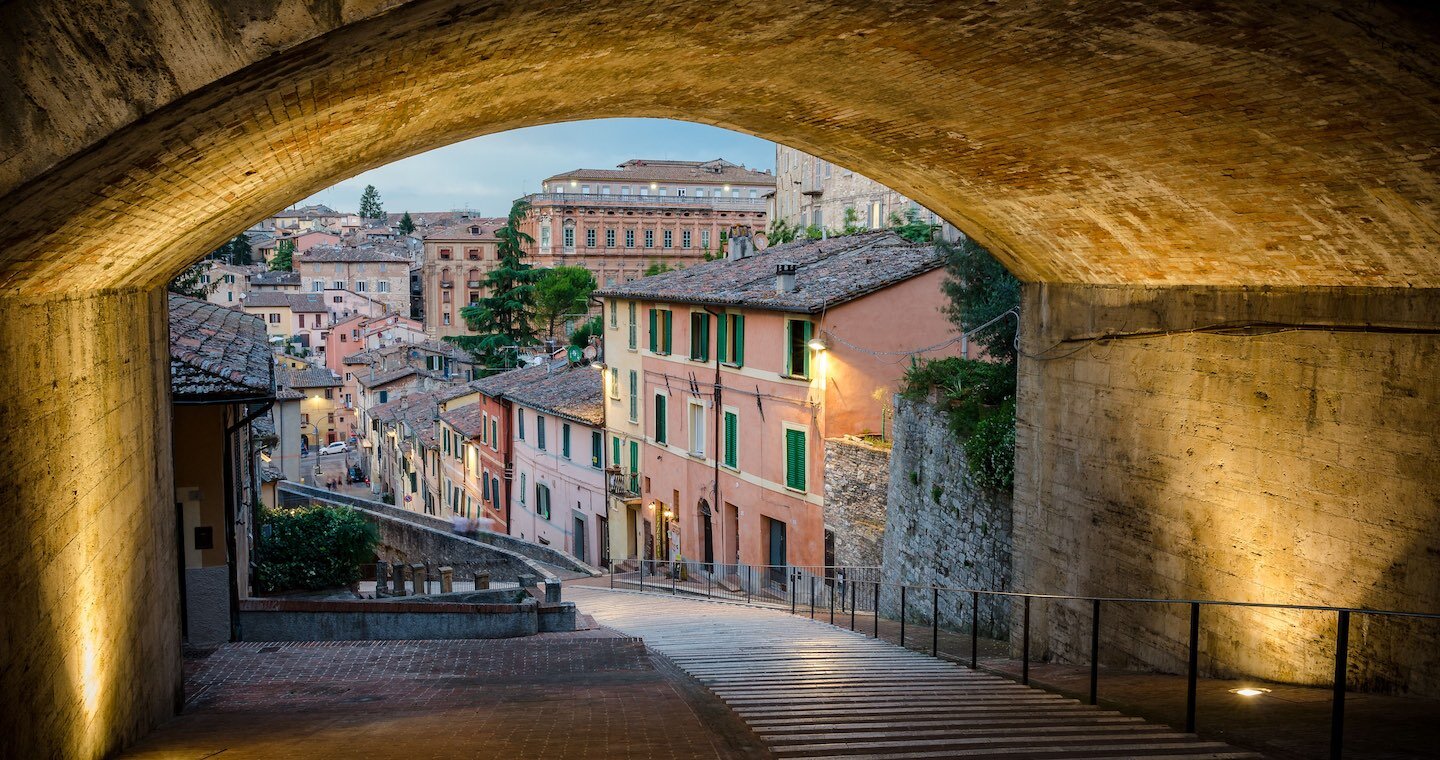 Historic centre
The piazzas and streets of the historic centre are an example of the highest Italian achievement of modelling stone and creating an unimaginable setting; here the notes of the Umbrian Jazz Festival resound, the latest international injection into a city which has always been a crossroads for trade and culture.
Gastronomic experts would describe Perugia as the home of a confectionery specialty which is widely known abroad, the famous Baci Perugina, based on chocolate and hazelnuts.
.

Medieval cityscape
Enthusiasts of the 13th and 14th c. would quickly respond by saying that Perugia is a perfect example of a medieval cityscape, which has long been appreciated by everyone who has visited it. It need not fear 'competition' from other historic towns which also boast a rich past of Communes and Signorias, since every city in central Italy is unique in its own way.
Perugia is no exception. It has an ancient heart more than 2,000 years old, of which much evidence can be seen in the open (and further remains continue to be found in the course of excavations made for new buildings).

A marriage between inhabited areas and the countryside
It has a rhythm of life which leaves the frenzied convulsions of the period of globalisation outside the city walls, so that one can immerse oneself in the typical customs of a rich province which has as its background the palazzos of power; a marriage between inhabited areas and the countryside which the strong urbanisation following World War II has severely damaged but not completely destroyed.
So much so that the silhouette of the ancient city is still indissolubly marked by the campaniles of churches, which for the most part are medieval.