About Us
TatìTravel nasce a Perugia dalla collaborazione di professionisti del settore specializzati in segmenti caratterizzanti del sistema turismo.
LEISURE
I fine settimana a basso costo nelle città d'arte, località marittime e montane nonché tutte le capitali europee, con particolari condizioni nei pacchetti turistici.
TURISMO SOCIALE
Fare turismo sociale vuol dire, in primo luogo, affermare uno stile di vita e principi di socialità.
BUSINESS TRAVEL
Competenza, servizio e collaborazione nell'organizzazione del proprio travelling.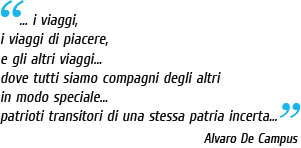 INCENTIVES, FIERE & CONGRESSI
Il Congresso quale occasione d'incontro per tutti gli uomini di un'azienda, momento di unione intorno ad uno stesso obiettivo.
INCOMING
Il turista, europeo, americano, orientale, interessato all'arte, alla cultura e all'atmosfera italiana trova in TatìTravel il suo agente di fiducia.
---
Tatì Travel – a reliable partner
Brief History
Tatì Travel was established in Perugia (Umbria/Italy) by travel agents with more than 20 years of experience and academic training in a number of key tourism sectors such as business travel and incentive, incoming and social tourism.
Human Resources
Technology and top quality services, always seeking to optimize results these goals are made possible by the complete professionalism of the Tatì Travel team. Our staff is made up of professionals specialized in different sectors and who at all times are able to provide expert travel consultation services aimed at the total satisfaction of the customer.
Service
Tatì Travel is not just a travel provider, but also offers comprehensive consultation services in the search for optimizing the management of travel expenses. Each customer is served by a dedicated account and booking agent, all in the guaranteeing of cost-effectiveness and high standards for travel services.
Fairs, Conferences and Incentive Tourism Tatì Travel – Creativity and Strengthening Your Image
Conferences as occasions for bringing together all of the men and women in the company, joining forces in focusing on a single goal.
Meetings as a time for creating a project and as an opportunity for developing new ideas. Using synergies to obtain results, sharing tasks, multiplying opportunities for listening and discussion. Hitting the bull's-eye in the creation of an event. Launching a new product in an original way. Establishing new and close relations with partners and collaborators. Sharing exciting moments.
Tatì Travel interprets your communication strategies in the creation and development of events that strengthen your image. In the organizing of events for businesses, associations, unions and individuals, as a young, dynamic and creative company Tatì Travel is capable of meeting your needs. Whether for a consultation, for services for a single stage of the event, or for complete organization services, Tatì Travel will always know just how to satisfy your requests.
Services
Defining of feasibility studies by customer request and preparing of cost estimates. Programming of events (scheduling of times for work, breaks, meals and entertainment). Finding of sponsors and/or contributions for the event. Management of the pre-conference period and progress reports to the customer regarding preparations. Handling of contacts with suppliers, structures, and services, as well as with the heads of trade and other associations and bodies involved in the operation. Establishment and coordination of secretarial services (also including correspondence with speakers and the sending of invitations, programs, tickets, etc.). Handling of relations with the press and communications media. Selection and training of assistance personnel. Coordination and monitoring of operations in progress. Management of the post-conference period and final report. Interpreting and translation services. Transcription of speeches, publication and sending of conference proceedings.
Business travel
Tatì Travel – Service, Quality and Collaboration
When organizing trips, businesses want to make plans quickly and efficiently, looking for advantageous solutions to the increasingly important problems of business travel while optimizing costs. Thanks to our excellent fare policy, we can offer highly competitive solutions with both European and non-European carriers. Agents all around the world, associated companies in the United States, the Mediterranean area and in Europe. Direct contracts with the largest hotel chains; "Italia Hotels" Program, with over 450 operative agreements. A competitive corporate fare policy. These are just some of the plusses that make Tatì Travel a reliable partner for all your business travel needs.
Company Travel Policy
The management of costs for business travel, a significant investment for any company, requires a detailed Company TRAVEL POLICY that provides clear guidelines and procedures for business travel for all company members. Tatì Travel , as the provider of logistics in general, offers to: Study and plan a Travel Policy in conjunction with the company; Furnish an advanced program of the statistics necessary for monitoring expense items.
Social Tourism
Tatì Travel – A Lifestyle
Social tourism means, above all, asserting a lifestyle and the principles of sociality. A vacation focused on the exchanging of experiences, on cultural, sports and recreational events represents an opportunity for personal and social growth.
Tatì Travel has embraced this concept. Moving toward the compound universe of social tourism and with the synergic involvement of various organizations – employees' after-work and recreational clubs and social-cultural centers for the elderly Tatì Travel 's goal is to stimulate and improve access to organized tourism for an increasingly greater cross-section of people: workers, retirees, and youths.
Incoming Tourism
Tatì Travel – a reliable partner
This is now Tatì Travel 's leading sector. Tatì Travel is one of the most dynamic tour operators in Italy.
It has been a leading tour operator on the international market for over 20 years, working with both individual and group programs. Thanks to our reputation for professionalism and reliability, we collaborate with the leading partners in the world tourism market. Our organization enables you to offer your clients a vast range of programs, from to the simplest to the most complex and detailed arrangements. Our central location in Italy allows us to be at the center of the most important events.
Tatì Travel can rely on the many years of experience of the staff members, who will help you organize tours of all kinds in our country and Europe. Tatì Travel will provide assistance by team members who speak your language. Tatì Travel is a partnership with a Coach Company owner of 84 Luxury Caoches and has signed contracts with the best hotels all over Italy and Europe. Professional tour guides and escorts will assist your clients during their stay. For European, American and Oriental tourists interested in the art, culture, and "atmosphere" of Italy, Tatì Travel is a travel agency that they can count on.
---
Tatì Travel: Profissionalidade e confiança
A operadora Tatì Travel foi criada em Perugia (Umbria/Itália) por profissionais especializados no segmento de turismo de lazer, social, de negócios, entre outros oferecidos na Itália. Os mais de 20 anos de experiência e formação acadêmica na área permitem aos profissionais da Tatì Travel uma acurada análise das exigências do fluxo de turistas e a criação de um roteiro sempre criativo, com garantia de produtos de excelência em sintonia com a demanda do mercado. Com o objetivo de estimular o acesso ao turismo organizado a um público cada vez mais amplo, a Tatì Travel acaba de criar um setor para atender o crescente mercado de turismo brasileiro. Para isso, busca uma Operadora como parceira para juntas oferecerem pacotes turísticos na Itália e Europa, de roteiros clássicos a originais, com novos destinos a serem descobertos pelos turistas brasileiros.
Pretendemos repetir com o Brasil a mesma parceria de sucesso com grandes operadoras mundiais em países como Japão, Estados Unidos, Turquia, Rússia, França, Irlanda, Israel, entre outros. Convidamos você a conhecer as soluções vantajosas da Tatì Travel que, além de um completo pacote de serviços (hotéis, passeios, guias madre língua, etc), otimiza a gestão das despesas de viagem internacionais, garantindo um preço competitivo e conveniência aos clientes. Para isso, conta com 87 ônibus de luxo para toda a Europa, uma frota com menos de 4 anos de vida, e a recente parceria com a maior rede de distribuição alimentícia do Centro Sul da Itália (Rede Conad) que gerou viagens promocionais divulgada no site www.viaggidigustour.it, frutos de um trabalho sério e de confiança que a Tatì Travel oferece.
Roteiros
O portfólio da Tatì Travel oferece um leque de opções para viagens em grupo, que vão dos roteiros clássicos pelos principais pólos turísticos italianos – como Roma, Florença, Milão e Veneza – a itinerários que fogem do tradicional. Entre os roteiros diferenciados estão os pacotes que levam o turista por cidades e vilarejos da Umbria, região central da península e chamada de coração verde da Itália. A região, que não costuma atrair o turismo em massa como as regiões vizinhas, guarda alguns tesouros desconhecidos para a maioria dos brasileiros. Uma terra acolhedora rica de história, arte, natureza e delícias à mesa, ainda a ser descoberta pelos brasileiros em suas viagens à Itália.
Em anexo, alguns exemplos de nossos roteiros pela Itália: Umbria Terra Mística; Gastronomia, Vinho e Arte; O caminho dos Etruscos; Papa Cities; Itália Romanesca; Piero Della Francesca.
Alguns roteiros clássicos como Europa: Circuito Tradicional; Peregrinação na Europa.
Se houver interesse em conhecer o orçamento dos itinerários e detalhes do serviço oferecidos pela Tatì Travel, estamos à disposição.